"Late Fall at Roslyn Pond" Fine Art Photo by ADEL GORGY, N.Y. Poem by STANLEY H. BARKAN, N.Y.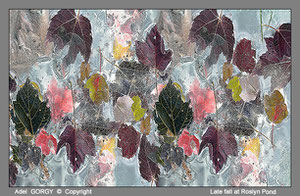 Cross-Cultural Communications Art & Poetry Series Broadside
LATE FALL AT ROSLYN POND
from the Portfolio "Rhythms . . . Water to Fall"
by Adel Gorgy
Plastered on the wind
merging with the pond,
all the birch, maple, and oak leaves—
reddish, brown, yellow, dark green—
end of Autumn saga.
Soon the trees
will be bare branched,
and the snow and ice
will dominate.
But, for now, just
the joy of leaves.
—Stanley H. Barkan
(October 16, 2011)